Exhibitions
Past Collection Exhibitions
Design CollectionⅠ"Japan's Commercial PostersⅡ"
May 11 - June 23, 2020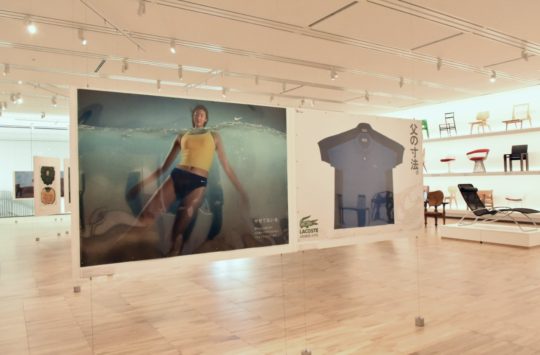 The third floor Design Collection exhibition has been changed. The posters have been replaced with displayed works continuing last time's theme of "Japan's Commercial Posters." Also, three new pieces have been added to the chair collection and have been swapped into the exhibition.
Posters are often seen as "mirrors that reflect the times." Posters are made for a variety of purposes such as for the announcement of cultural events, such as exhibitions, and in order to transmit social messages, but it can be said that commercial posters reflect the times most clearly of all. We introduce posters that have an appeal that goes beyond the advertising medium, from those of Japan's masters of design, including Ikko Tanaka, to works from the Poster Triennial of recent years.
The chair collection includes reproductions of Charles & Ray Eames, which is representative of 20th century America, chairs designed by the painter Taro Okamoto, and HOFMAN Vlastislav chairs, which were shown in last year's "100YEARS OF CZECH DESIGN" exhibition. We hope you will continue to enjoy the design collection of posters and chairs this season.
Details
Period
April 23 [Thu.] - June 23 [Tue.], 2020
Opening Hours
9:30 AM-6:00 PM [Last admission is 5:30 PM]
Closed
Wednesdays [Except national holidays]
Admission
Adults 300yen [*240yen]

For groups of 20 people or more, admission fees in [* ] are applied.
Free admission both to collection exhibitions and special exhibitions for the following visitors.
1. Children, students [elementary, junior high or high school students, etc.]
2. Persons escorting children/students for school activities or social activities. [Submission of admission free application is necessary.]
3. Disabled people with a physical disability certificate.
For seniors [70 and above] and university students or younger, admission to collection exhibitions is free.
Please note that the Museum may be closed for maintenance or an exhibition change out.
Opening hours and days of the Museum may be changed depending on seasons or events.

Venue
3F exhibition room 5
Organized by
Toyama Prefectural Museum of Art and Design