Collections
TAD is offering ambitious presentation of arts from the beginning of 20th century up to the present time, standing on the three viewpoints from the world, from Japan and from Toyama.
Main Works in Museum's Collections
World Art of the 20th Century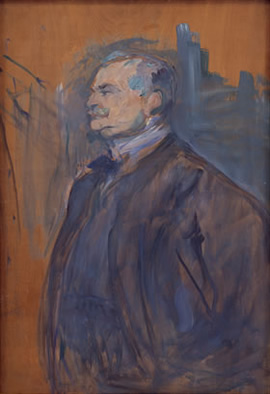 Henri de Toulouse-Lautrec
"Portrait of Manzi" (1901)
This is one of Lautrec's paintings in his late years. He painted this portrait just before his death. The model is Michel Manzi who had provided Lautrec with financial and emotional support. Manzi was an art collector and dealer who was a patron of avant-garde artists around that time. He was also a trusted and respected friend of Lautrec. Though this portrait looks uncompleted at a glance, the image of the model is adequately captured with his sharp brushwork.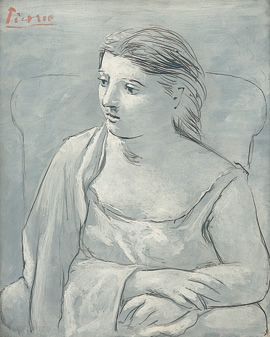 ©2023 – Succession Pablo Picasso – BCF(JAPAN)
Pablo Picasso
"Woman in an Armchair" (1923)
A woman seated in a chair is drawn by applying several sinuous contours in soft shades of gray. The gentle expression on her face impresses those who see it. Picasso displayed a prodigious talent for drawing at a very young age. His simple and free drawing achieved on the basis of his excellent drawing skills is well demonstrated in this work. This is Picasso's masterpiece drawn in his happiest years when he enjoyed more and more recognition as a painter after he got married and his loved son was born.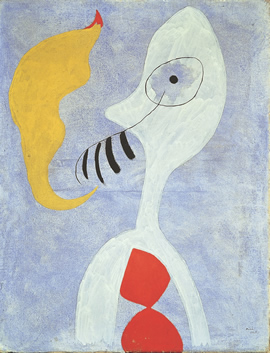 © Successió Miró / ADAGP, Paris & JASPAR, Tokyo, 2023 G3165
Joan Miró
"Testa di fumatore" (1925)
Miro, at the age of 32, painted this work in 1925. Around that time, he had started his artistic activities in Paris as well. This is part of a series of blue paintings, about which he said, "ceci est la couleur de mes rêves" (this is the color of my dreams).
His paintings are often compared to child's paintings for their whimsical and humorous quality. Though, what he actually pursued was to visualize his mental images by meticulously arranging colors, forms and lines on a canvas. Regarding this work, it looks like an improvisational work, but rough sketches for this painting have been identified. It can be said that Miro did not try to create an abstracted man figure, but, while trying to lay out various abstract forms generated in his mind, the image of a man with a pipe was created as a result.
While pursing abstract expression, Miro put his familiarity with and love for nature into his works. His "dreamy" blue might be the color of blue sky and ocean of his homeland, Barcelona.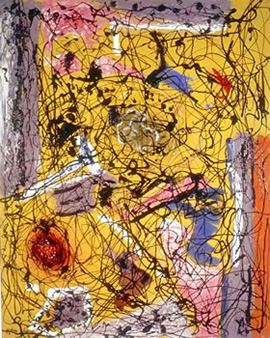 Jackson Pollock
"Untitled" (1946)
Pollock painted this masterpiece which consists of webs of innumerable curves and straight lines by dripping or pouring paints on the canvas laid on the floor. Due to this painting style, his paintings are his physical traces, which are very different from the conventional ones that recreate forms and images of objects. This is one of his important works which represent a transitional moment in Pollock's career, as he moved toward an experimental paint application with technique of dripping/pouring paint, turning from representational paintings.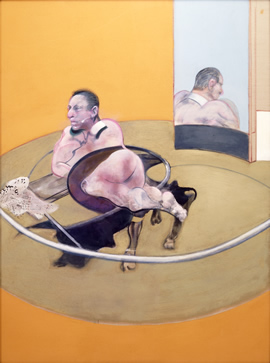 Lying Figure, 1977 [CR 77-07] © The Estate of Francis Bacon. All rights reserved. DACS & JASPAR 2023 G3165
Francis Bacon
"Lying Figure" (1977)
A naked man is lying on a table. The table legs are ones of beast. On the floor, shadow of the beast is cast. It looks like a bull with horns. In a concave mirror behind the man, his back is reflected. And, in front of him, there is something looking like white paper, on which fragmented characters are scattered.
The vertically long canvas is occupied by circles. The circle and bull evoke the image of a bullring. The model of this painting is Michel Leiris (1901–1990), a French poet and ethnologist. He wrote a book on bullfighting from the viewpoint of eros and death.
Dominating colors on the canvas are orange and sky blue. This may sound that this painting gives a pleasant image, but it actually gives a spooky image because Bacon mixed black a little with those colors. As well, rough surface of the painting increases discomfort it causes. Bacon might imply beast nature in human consisting of blood and flesh by drawing the fragmented and lost characters (=logos).
If you see this work, you are reflected on the protective acryl panel. It is designed that you also become part of this work. Use of a reflection acryl panel is a specification given by Bacon.
Japanese Art of the 20th Century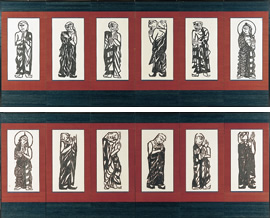 Shiko Munakata
"Two Bodhisattvas and Ten Great Disciples of Sakya" (1939)
This is Munakata's early masterpiece for which he gained international acclaim, winning the grand prize at the Sao Paulo Biennial in 1955 and the International Print Award at the Venice Biennial in 1956.
The ten great disciples are the ten leading disciples of Sakyamuni Buddha who had many disciples. When he had wanted to make life-size woodblock prints, Munakata saw the statues of the great disciples of the Kofukuji Temple at the museum in Ueno. Among them, deeply impressed and inspired by the statue of Subhuti, one of the ten great disciples of Buddha, he decided to produce a series of woodblock prints of the ten great disciples. He prepared wooden boards large enough for his ambitious attempt, but what he was trying to do was unprecedented. No one had made woodblock prints higher than 90 cm in those days. On top of that, he did not know the details of the ten great disciples. With his all spirit and heart, he just engraved the boards and finished woodblock prints of the ten great disciples only in a week.
After he finished this work, Munakata took a closer look at the materials about the ten disciples and found that each disciple's facial expression and character coincided exactly with those of each in his work. It was Munakata himself that was surprised at this miracle.
He was planning to make a pair of 6-panel folding screens with the ten woodblock prints of the great disciples. However, in that case, one of the six panels of each pair should be blank. So, he additionally created two woodblock prints of Fugen Bosatsu (Bodhisattvas) and Monju Bosatsu (Bodhisattva). Thus, the masterpiece with human touch in which the two Bodhisattvas are warmly looking at the ten disciples having lively conversations with each other.
Posters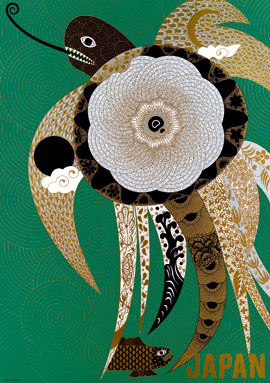 Kazumasa Nagai
"Japan" (1988)
Nagai has expressed his profound insight into and love for the universe and life with the harmonious combination of brilliant colors and patterns consisting of elaborate geometric contours. Featuring a motif of turtle, an auspicious animal in Japan, Nagai created this gorgeous design with the sophisticated lines and colors to convey beauty of "Japan" and its culture, which has been developed in deep relations with nature, through a beyond-word visual media, poster. Nagai had designed the special exhibition posters for the Museum of Modern Art, Toyama, which is the precursor of the Toyama Prefectural Museum of Art and Design (TAD), from its opening in 1981 to closing in December 2016. Nagai also designed the logo mark for TAD.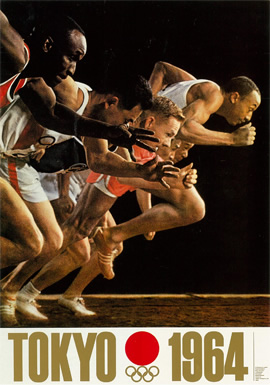 Yusaku Kamekura
"Tokyo Olympics (the 18th Summer Olympic Games)" (1962)
In 1959 when Tokyo was chosen to host the Olympics, the organizing committee of Tokyo Olympic Games set up a design council for the Olympics. Ten designers, including Kamekura, and design critics worked on the design project for Tokyo Olympic Games, aiming to create international designs by incorporating Japanese taste. In the competition for the Olympic symbol, Kamekura's idea was adopted. His symbol mark became a powerful and simple massage to promote the Olympic Games in Tokyo to the world. Kamekura also designed posters for the Olympic Games. For this poster, he featured a photo of sprinters' dash. The athletes' dynamic forms captured in a moment shows how seriously and carefully he chose this photo as a critical design element.
・Photo Direction: Jo Murakoshi
・Photographer: Osamu Hayasaki
Chairs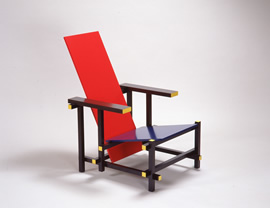 Gerrit Thomas Rietveld
Red and Blue (1918-23 Produced since the 1990s)
It was 1918 that Rietveld who started as a furniture craftsman in Holland designed and built the Red and Blue Chair. He created this chair in his attempt to build a comfortable chair by using standard size wood boards and square lumbers. This design was resonating with the De Stijl, a Dutch art movement in those days, which provided ultimate simplicity by using only straight horizontal and vertical lines. Originally made in plane wood, this chair was later painted in red and blue with the advice from Piet Mondrian who was a painter and member of the De Stijl. The Red and Blue Chair is a masterpiece achieved through the collaboration between art and design.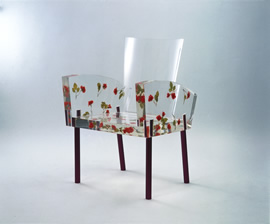 Shiro Kuramata
"Miss Blanche" (1988)
Kuramata is a designer who used industrial materials and attracted world's attention for his irony of the modern times and poetic design in 1970s and 1980s. This transparent acryl resin chair is named Miss Blanche after the character Blanche DuBois in the play "A Streetcar Named Desire." Artificial roses packed in the resin represent patterns of the dress she wore in the play. By using transparent acryl resin, Kuramata might try to erase the chair form, as if he questioned functions and designs of chairs, as well as making the chair look lighter. Only the artificial roses arranged like floating in the air make us feel presence of the woman to whom this chair was dedicated.