Onomatopoeia Rooftop
Fuwa-fuwa (fluffy), Guru-guru (round and round), and Hiso-hiso (whisper)
Roof garden play equipment designed by graphic designer Taku Satoh who got inspirations from sounds of onomatopoeia inspires us in various ways.
Hours

8:00-22:00

Closed

12/1-3/15
Onomatopoeia Rooftop
Concept
In a child's world, learning, playing and art are free from boundaries.
When I first heard the new museum's rooftop garden plan that involved relocating the big air bouncer that was originally on the site, the name of the bouncer "fuwa-fuwa dome" attracted my attention as it contained Japanese onomatopoeia "fuwa-fuwa (fluffy)." Then, taking inspiration from this, one naming idea for the roof garden came to my mind: Onomatopoeia Rooftop. It takes a new approach to play equipment development. That is an onomatopoeia inspiration-first approach that develops play equipment, inspired by sounds of onomatopoeia or imitative words.
What should the Museum's roof garden playground be? It wouldn't be interesting to install ordinary equipment. This should be an enjoyable space with an unprecedented ideas. This notion led to the unique idea.
Taku Satoh
Graphic Designer
Taku Satoh佐藤卓
In 1979, Mr. Satoh graduated from Department of Design, Tokyo National University of Fine Arts and Music (present Tokyo University of the Arts) and completed his master's degree in 1981 from Tokyo National University of Fine Arts and Music (present Tokyo University of the Arts). After initially working for Dentsu, Inc., he established Taku Satoh Design Office Inc. in 1984 and changed company name, TSDO Inc. in April, 2018. He has been engaged in a wide range of artistic activities, including product development of Nikka Whisky's Pure Malt, package designs of LOTTE XYLITOL Gum chewing gum and MEIJI Dairies' Oishii Gyunyu milk, graphic design for PLEATS PLEASE ISSEY MIYAKE, the logo marks for the 21st Century Museum of Contemporary Art in Kanazawa, the National Museum of Nature and Science, Tokyo and National High School Baseball Championship. He has also served as art director for the "Nihongo de Asobo" children's program on NHK's educational channel, overall supervisor of the "Design Ah!" children's program on the same channel, and one of three directors of 21_21 DESIGN SIGHT. His publications include "Kujira wa shio o fuite ita" (DNP Art Communications), "SOSURU SHIKO" (SHINCHOSHA Publishing Co., Ltd.) and so on.
http://www.tsdo.jp/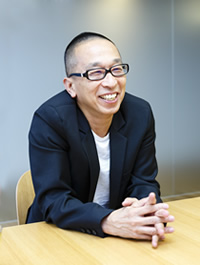 TAD
PeakViewer App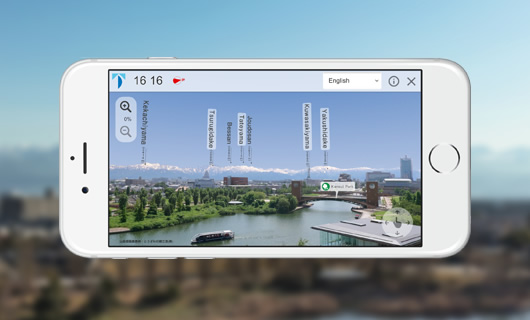 This is a smartphone app to guide the Tateyama Mountain Range and the Kansui Park viewed from the Onomatopoeia Rooftop.
By simply holding up your smartphone up to the Tateyama Mountain Range and the Kansui Park, this app will quickly display the view in front of you on your smartphone with peak names and their elevations.
In addition, by touching each name, more information about each mountain, as well as the Kansui Park, is displayed.
Even in bad weather, you can enjoy the 360° VR panoramic view of the Tateyama Mountain Range with this app.
*Peak names are given based on the information acquired by direction sensors in a smartphone/tablet.
*Available in five languages – Japanese, English, Chinese (traditional), Chinese (simplified), and Korean.
How to Download
This is a free app. Please search with the keyword "Toyama Prefectural Museum" by the store app.
保存保存