Exhibitions
Past Exhibitions
Senju Hiroshi: Commemorating the Completion of Fusuma Paintings for Kongobuji Temple, Koyasan
June 9 - July 29, 2018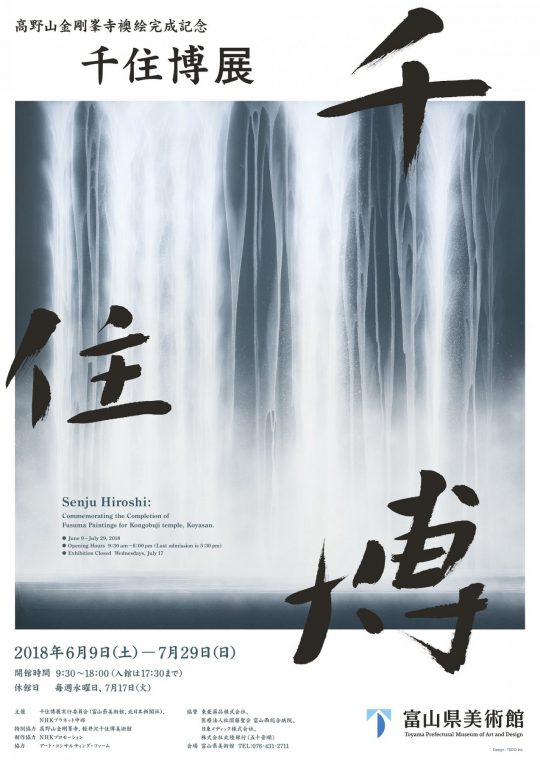 Hiroshi Senju [was born in 1958, Tokyo] is one of the few masters of the Japanese-style painting which emphasizes traditional Japanese techniques and materials. The Kongobuji Temple, Koyasan is a sacred site in Shingon esoteric Buddhist, founded by the priest Kukai [Kobo Daishi] in the early Heian era. The Cha-no-ma [tea room] and Irori-no-ma [room with open hearth] at the Daisyuden [great hall] where rebuilt in 1863, and it was decided to commission fusuma [sliding door] paintings by artist Hiroshi Senju.
Ahead of the dedication at Kongobuji, this exhibition presents fusuma and wall paintings, the completion of which was an epic task the artist himself ranks as the culmination of his career to date. This exhibition also includes a selection of Senju's major works to date, offering visitors a window on the worldview of Hiroshi Senju, an artist constantly searching for new possibilities in Japanese paintings.
Details
Period
June 9 [Sat.] - July 29 [Sun.], 2018
Opening Hours
9:30 AM-6:00 PM [Last admission is 5:30 PM]
Closed
Wednesdays [Except national holidays]
July 17 [Tue.], 2018
Admission
Adults 1,300yen [*1,000yen], University students 950yen [*750yen], Advance ticket 1,000yen

For groups of 20 people or more, admission fees in [* ] are applied.
Advance tickets are available from April 28 [Sat.] to June 8 [Fri.], 2018.
Tickets for the special exhibitions also include admission to the collection exhibition.
Free admission both to collection exhibitions and special exhibitions for the following visitors.
1. Children, students [elementary, junior high or high school students, etc.]
2. Persons escorting children/students for school activities or social activities. [Submission of admission free application is necessary.]
3. Disabled people with a physical disability certificate.
For seniors [70 and above] and university students or younger, admission to collection exhibitions is free.
Please note that the Museum may be closed for maintenance or an exhibition change out.
Opening hours and days of the Museum may be changed depending on seasons or events.

Venue
2F exhibition room 2, 3, 4
Organized by
The Hiroshi Senju Exhibition Executive Committee [Toyama Prefectural Museum of Art and Design, THE KITANIPPON SHINMBUN], NHK PlanNet, Inc. Chubu Branch Office. Special Support: Kongobuji temple, Koyasan, Hiroshi Senju Museum Karuizawa / Production Support: NHK Promotions Inc. / Support: Art Consulting Firm / Corporate Sponsors: TOA Pharmaceuticals CO., LTD., TOYAMA NISHI GENERAL HOSPITAL, Nitto Medic Co., Ltd., The Hokuriku Bank, Ltd.
About the authors
SENJU, Hiroshi
(Japanese Painter)
Born in 1958, Tokyo, Japan. BFA, Tokyo University of the Arts, 1982. MFA, The Graduate School of Tokyo University of the Arts, 1984. Completed coursework of the doctoral program at Tokyo University of the Arts, 1987. Received Honorable Mention at 46th La Biennale di Venezia, Italy, 1995. Paintings on fusuma at Shofuso, Philadelphia, USA, 2007. Hiroshi Senju Museum Karuizawa Opened, 2011. President of Kyoto University of Art & Design from 2007 to 2013, presently a professor of Kyoto University of Art & Design. Received Isamu Noguchi Award, 2017. Received Award for Excellence in Art, Japan America Society of Greater Philadelphia ,USA, 2018. Commemorating the Completion of Fusuma Paintings for Kongobuji Temple, Koyasan will tour multiple museums in Japan, 2018.
Images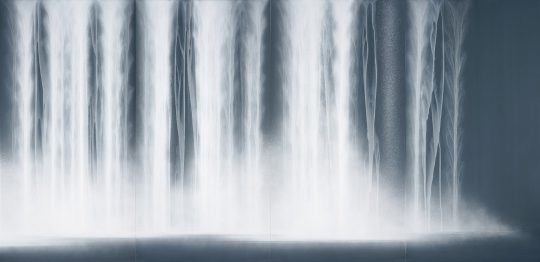 Fusuma Paintings for Kongobuji Temple, Koyasan "Waterfall" [part] 2018 Kongobuji temple, Koyasan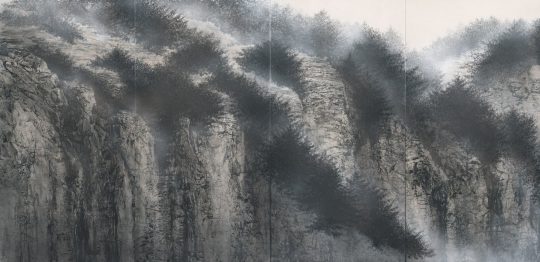 Fusuma Paintings for Kongobuji Temple, Koyasan "Cliff" [part] 2018 Kongobuji temple, Koyasan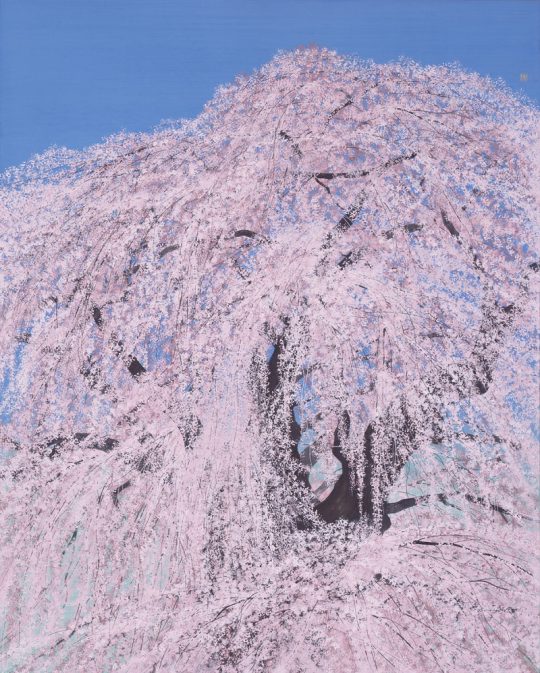 "Cascading Cherry Blossoms of Miharu" 2013 Hiroshi Senju Museum Karuizawa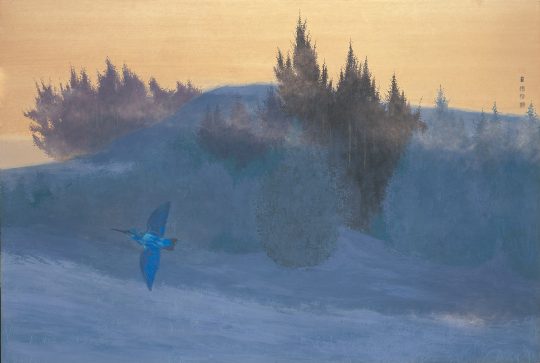 "In the Morning" 1989 Hiroshi Senju Museum Karuizawa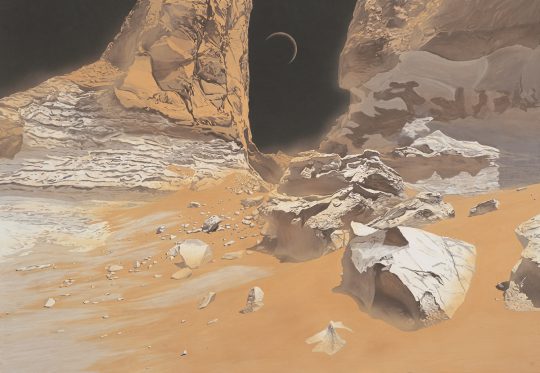 "Moon Echo" 2006 Hiroshi Senju Museum Karuizawa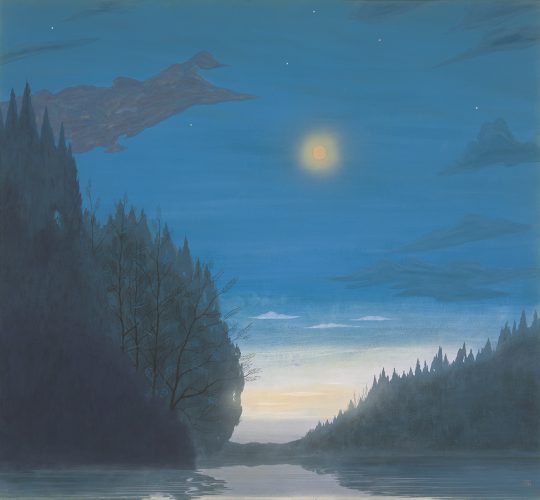 "High-Altitude Wind [Henri's Sky]" 1989 Hiroshi Senju Museum Karuizawa