Exhibitions
Past Exhibitions
100YEARS OF CZECH DESIGN
June 1 - July 28, 2019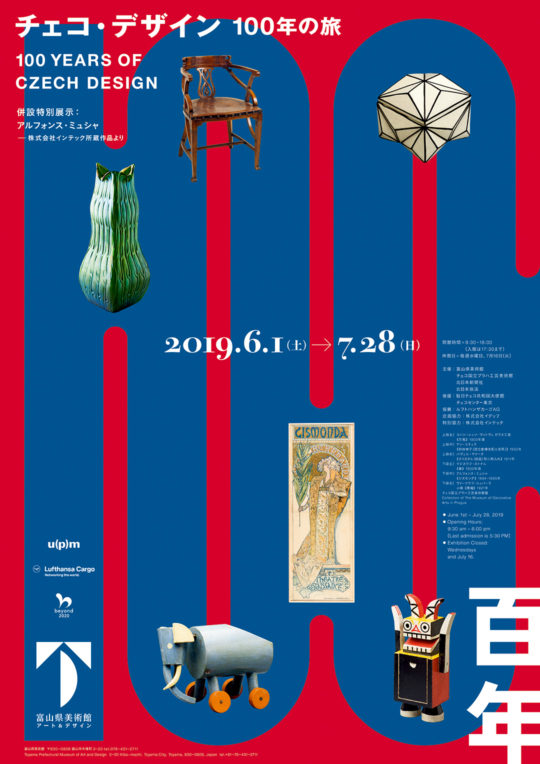 As part of a project by The Museum of Decorative Arts in Prague, we will be exhibiting works in the museum's collection that are emblematic of Czech design from the end of the 19th century to the present day.
Starting with Alfonse Mucha, a standard-bearer for Art Nouveau, this exhibition showcases over 100 years of art from the Czech Republic, including architecture influenced by Czech Cubism, picture books of the Čapek Brothers, animation works loved by many in the world, and many other works that exemplify the unique aesthetics and exhilarating design of the country even under socialism. Traditional Czech industrial and ethnic craftwork such as Bohemian glass, as well as other unique art forms that resulted from the fusion of Czech art with contemporaneous aesthetic forms from America and Europe, continue to fascinate many people today. Embark on a little journey of Czech Design World, where you can enjoy around 250 works including furniture, tableware, posters, toys, books, etc.
In addition, Toyama Prefectural Museum of Art and Design will be holding a special exhibition in collaboration with Intec Inc., where you can enjoy around 20 works in their collection by the leading painter of fin-de-siècle Czech Republic, Alfonse Mucha.
Details
Period
June 1 [Sat.] - July 28 [Sun.], 2019
Opening Hours
9:30 AM-6:00 PM [Last admission is 5:30 PM]
Closed
Wednesdays [Except national holidays]
July 16 [Tue.], 2019
Admission
Adults 900yen [*700yen], University students 450yen [*350yen], Advance ticket 700yen

For groups of 20 people or more, admission fees in [* ] are applied.
Advance tickets are available from April 26 [Fri.] to May 31 [Fri.], 2019.
Tickets for the special exhibitions also include admission to the collection exhibition.
Free admission both to collection exhibitions and special exhibitions for the following visitors.
1. Children, students [elementary, junior high or high school students, etc.]
2. Persons escorting children/students for school activities or social activities. [Submission of admission free application is necessary.]
3. Disabled people with a physical disability certificate.
Please note that the Museum may be closed for maintenance or an exhibition change out.
Opening hours and days of the Museum may be changed depending on seasons or events.

Venue
2F exhibition room 2, 3, 4
Organized by
Toyama Prefectural Museum of Art and Design, The Museum of Decorative Arts in Prague,The Kitanippon Shimbun,Kitanihon Broadcasting Co.,Ltd.
Special Support: INTEC Inc.