Exhibitions
Past Collection Exhibitions
Design CollectionⅡ Theatre Posters of the World
~Japan, and then the World~
July 18 - October 8, 2019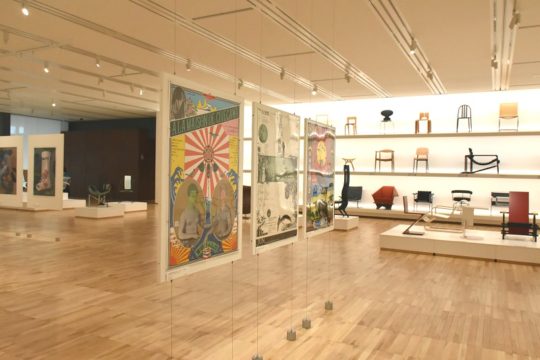 This summer, The 9th THEATRE OLYMPICS will be held in Toyama Prefecture.
This international stage arts festival will be held from late August to late September in Toga Village and Kurobe City in Toyama Prefecture, and through mid-December in Saint Petersburg, Russia. A number of leading modern stage art troupes, including the troupe SCOT based in Toga Village, will take the stages for performances.

Together with The 9th THEATRE OLYMPICS, the Design Collection of the Toyama Prefectural Museum of Art and Design will feature the poster collection of the museum under the title "Theatre Posters of the World", showcasing public performance notices for dramas and operas and other select posters on the theme of stage arts.
Posters announcing stage performances can be seen as communicating a condensation of a performance's world into a single poster, through the interpretation and expression of the individual designer.
Poster designs that capture the viewer hold a power to heighten anticipation of a performance's opening.

The poster exhibit will feature the works of Japanese designers including Ikko Tanaka, Kazumasa Nagai, and Tadanori Yokoo, as well as works from France, the U.S., and Poland, a country known for many famed posters. These overseas entries will focus on award-winning and prize-winning selections from the International Poster Triennial in Toyama, an international open exhibition held every three years by the Toyama Prefectural Museum of Art and Design.

Enjoy the appeal of the stage arts, playing out in museums through the eyes of posters.
Details
Period
July 18 (Thu) - Oct 8 (Tue), 2019
Opening Hours
9:30 - 18:00 (Last admission is 30 minutes before closing)
Closed
Wednesdays (Except national holidays),September 17(Tue) and September 24(Tue)
Admission
Adults ¥300 (¥240) For groups of 20 people or more, admission fees in ( ) are applied.

Free admission both to collection exhibitions and special exhibitions for the following visitors. 1) Children, students (elementary, junior high or high school students, etc.) 2) Persons escorting children/students for school activities or social activities. (Submission of admission free application is necessary.) 3) Disabled people with a physical disability certificate.
For seniors (70 and above) and university students or younger, admission to collection exhibitions is free.
Please note that the Museum may be closed for maintenance or an exhibition change out.
Opening hours and days of the Museum may be changed depending on seasons or events.

Venue
3F exhibition room 5
Organized by
Toyama Prefectural Museum of Art and Design