Exhibitions
Past Collection Exhibitions
Szymon Goldberg and Miyoko Yamane's Collection "Goldberg and Asia"
July 18 - October 8, 2019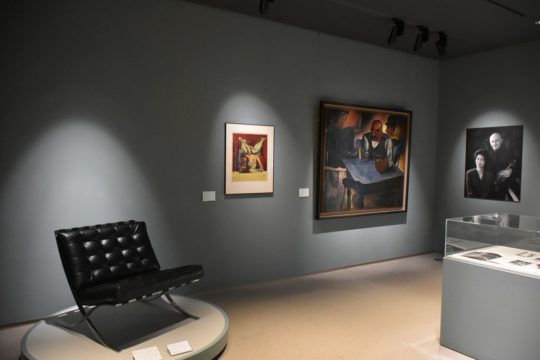 In this season's special exhibition "Goldberg and Asia," we introduce you to Goldberg's relationship to Asian countries by primarily focusing on items that are related to Indonesia and Japan.

Being a Jew, Goldberg fled the Nazi-controlled Germany before World War II broke out and set out on a concert tour. He visited Japan for the first time in 1936 and gave a concert.
Then, he was captured by Japanese soldiers in Java (a Dutch colony at the time) on his way to the US, where he was going to claim political asylum.
He was detained there for almost three years until the end of the war.
Against this hardship, it seems that Goldberg was interested in the Indonesian culture, especially in the dancing, music, and puppet show traditions of the island of Bali. He owned photo books and pamphlets about dance as well as masks and puppets that probably originated in Indonesia.
In this exhibition, we introduce you to items related to Asia formally owned by Goldberg, currently in the possession of The Center for Music Research at Tokyo University of the Arts.
We hope you find these items interesting as well as those belonging to the collection of Toyama Prefectural Museum of Art and Design.

*We express our sincere thanks to The Center for Music Research at Tokyo University of the Arts Szymon Goldberg Collection for their generous support including the lending of materials in organizing this exhibition.
Details
Period
July 18 (Thu) - Octber 8 (Tue),2019
Opening Hours
9:30 - 18:00 (Last admission is 30 minutes before closing)
Closed
Wednesdays (Except national holidays), September 17 (Tue) and September 24 (Tue), 2019
Admission
Adults ¥300 (¥240) For groups of 20 people or more, admission fees in ( ) are applied.

Free admission both to collection exhibitions and special exhibitions for the following visitors. 1) Children, students (elementary, junior high or high school students, etc.) 2) Persons escorting children/students for school activities or social activities. (Submission of admission free application is necessary.) 3) Disabled people with a physical disability certificate.
For seniors (70 and above) and university students or younger, admission to collection exhibitions is free.
Please note that the Museum may be closed for maintenance or an exhibition change out.
Opening hours and days of the Museum may be changed depending on seasons or events.

Venue
3F exhibition room 6
Organized by
Toyama Prefectural Museum of Art and Design