Exhibitions
Past Exhibitions
【Canceled】400 Years of Western Paintings : Masterpieces from Tokyo Fuji Art Museum
May 23, 2020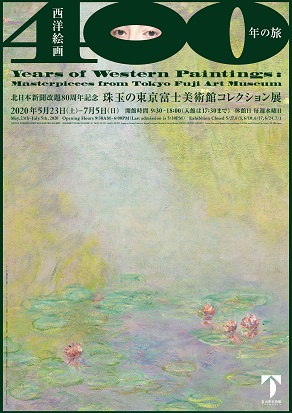 Tokyo Fuji Art Museum opened in 1983 in Hachioji City, Tokyo, and houses a collection of around 30,000 artworks across various genres and periods such as paintings, prints, photographs, sculptures, ceramics and lacquer ware to armor, swords, and medallions from Japan and other countries in the East and West. In particular, it is widely known in Japan and abroad for its extensive collection of Western paintings ranging from the 16th-century Italian Renaissance to the 20th century that is highly diverse in both its historical and geographical scopes and which offers visitors a panoramic view of the history of Western painting.
This exhibition features 83 masterpieces carefully curated from this collection to showcase 400 years of the history of Western painting from the latter half of the 16th century to the 20th century, including works by popular modern artists such as Claude Monet, Pierre-Auguste Renoir, Paul Cézanne, Vincent van Gogh, Paul Gauguin, and Marc Chagall that have dazzled fans of art worldwide, as well as works by masters of art prior to the modern period such as Tintoretto, Frans Hals, Anthony van Dyck who are rarely exhibited in Japan.
Please don't miss this opportunity to experience the delight of standing before 400 years of Western painting and indulging in the charms of the vast and profound world of Western painting as well as those of individual works.
Details
Period
May 23 [Sat.] - July 5 [Sun.], 2020
Opening Hours
9:30 AM-6:00 PM [Last admission is 5:30 PM]
Closed
Wednesdays [Except national holidays]
Admission
Adults 1,400yen [*1,200yen], University students 1,000yen [*800yen]

For groups of 20 people or more, admission fees in [* ] are applied.
Free admission both to collection exhibitions and special exhibitions for the following visitors.
1. Children, students [elementary, junior high or high school students, etc.]
2. Persons escorting children/students for school activities or social activities. [Submission of admission free application is necessary.]
3. Disabled people with a physical disability certificate.

Venue
2F exhibition room 3,4
Organized by
Toyama Prefecture, Toyama Prefectural Museum of Art and Design, THE KITANIPPON SHIMBUN