Exhibitions
Past Collection Exhibitions
Szymon Goldberg and Miyoko Yamane's Collection
May 11 - June 23, 2020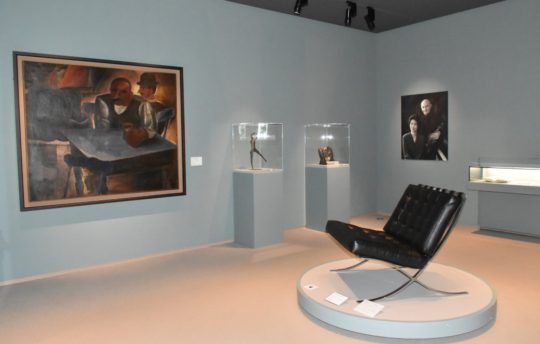 This is an introduction to works of art that were treasured by Szymon Goldberg [1909-1993], a violinist and conductor representative of the 20th century, and were donated in 2006 by his wife, Miyoko.
Goldberg, who spent his final years at the foot of Mount Tateyama in Toyama, collected works of art that resonated with his own views of life and the arts. He treasured these works and always placed them around himself.
In this exhibition, we display items related to Goldberg from our own collection as well as materials from the collection of The Center for Music Research at Tokyo University of the Arts.
Details
Period
April 23 [Thu.] - June 23 [Tue.], 2020
Opening Hours
9:30 AM-6:00 PM [Last admission is 5:30 PM]
Closed
Wednesdays [Except national holidays]
Admission
Adults 300yen [*240yen]

For groups of 20 people or more, admission fees in [* ] are applied.
Free admission both to collection exhibitions and special exhibitions for the following visitors.
1. Children, students [elementary, junior high or high school students, etc.]
2. Persons escorting children/students for school activities or social activities. [Submission of admission free application is necessary.]
3. Disabled people with a physical disability certificate.
For seniors [70 and above] and university students or younger, admission to collection exhibitions is free.
Please note that the Museum may be closed for maintenance or an exhibition change out.
Opening hours and days of the Museum may be changed depending on seasons or events.

Venue
3F exhibition room 6
Organized by
Toyama Prefectural Museum of Art and Design