Exhibitions
Past Collection Exhibitions
TAD Collection Ⅲ
September 10 - December 8, 2020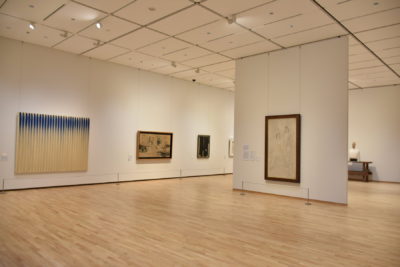 We will hold the TAD Collection Ⅲ in the exhibition room 1.

20th century art will be looked at with a focus on three sub-themes.
In addition to critical themes such as 【Human expression】 and 【Room】, common to most pieces of art, we will also look at the theme of 【Action/Trace】, which brings the power of a work to the forefront. For 【Human expression】, we will show the famous works of pop artists such as Tom Wesselmann's 《Bedroom Blonde with Necklace》 and more. For 【Room】, we will look at 《Prayer before the Meal》 by the Toyama artist Kanayama Yasuki for【Action/Trace】, we will look at works that give us a sense of the changes of the artists, such as Hans Hartung's《T1987-H41》and Lee U-fan's 《From Line》.
Details
Period
September 10 [Thu.] - December 8 [Tue.], 2020
Opening Hours
9:30 AM-6:00 PM [Last admission is 5:30 PM]
Closed
Wednesdays [Except national holidays]
Admission
Adults 300yen [*240yen]

For groups of 20 people or more, admission fees in [* ] are applied.
Free admission both to collection exhibitions and special exhibitions for the following visitors.
1. Children, students [elementary, junior high or high school students, etc.]
2. Persons escorting children/students for school activities or social activities. [Submission of admission free application is necessary.]
3. Disabled people with a physical disability certificate.
For seniors [70 and above] and university students or younger, admission to collection exhibitions is free.
Please note that the Museum may be closed for maintenance or an exhibition change out.
Opening hours and days of the Museum may be changed depending on seasons or events.

Venue
2F exhibition room 1
Organized by
Toyama Prefectural Museum of Art and Design