Exhibitions
Past Collection Exhibitions
TAD Collection Ⅳ
December 10, 2020 - January 28, 2021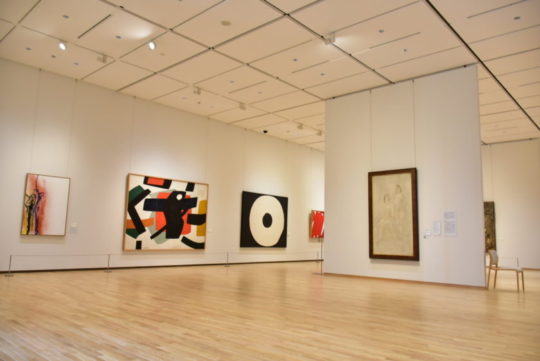 We will hold the TAD Collection Ⅳ in the exhibition room 1.

20th century art will be looked at with a focus on three sub-themes.
【Human expression】 features Tom Wesselmann's ≪Bedroom Blonde with Necklace≫, Saburo Aso's ≪ Seated Person≫, David Hockney's ≪Raymond Foye looking at Brooklyn #3 Nov.1982≫, and other works that demonstrate various forms of expression. In 【Landscape】, visitors can view Gyoji Nomiyama's ≪ Personne≫, which was donated to the museum last year. In 【Color and Form】, we introduce a selection of abstract works created mainly with lines and shapes, including Pierre Soulages's ≪Peinture≫ and Masanari Murai's ≪On the White≫.
Details
Period
December 10 [Thu.], 2020 - January 28 [Thu.], 2021
Opening Hours
9:30 AM-6:00 PM [Last admission is 5:30 PM]
Closed
Wednesdays [Except national holidays]
Closed from December 29 [Tue.], 2020 - January 3 [Sun] and January 12 [Tue], 2021.
Admission
Adults 300yen [*240yen]

For groups of 20 people or more, admission fees in [* ] are applied.
Free admission both to collection exhibitions and special exhibitions for the following visitors.
1. Children, students [elementary, junior high or high school students, etc.]
2. Persons escorting children/students for school activities or social activities. [Submission of admission free application is necessary.]
3. Disabled people with a physical disability certificate.
For seniors [70 and above] and university students or younger, admission to collection exhibitions is free.
Please note that the Museum may be closed for maintenance or an exhibition change out.
Opening hours and days of the Museum may be changed depending on seasons or events.

Venue
2F exhibition room 1
Organized by
Toyama Prefectural Museum of Art and Design