Exhibitions
Current Collection Exhibition
TAD Collection Ⅴ
February 20 - May 18, 2021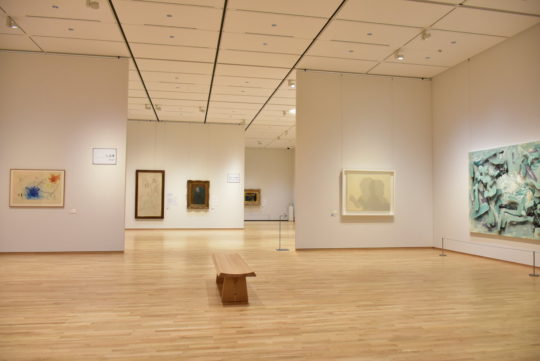 20th century art will be looked at with a focus on five sub-themes.

At 【Trick, Illusion】, we will present works from Akira Komoto, who uses photographs to create scenes that fuse nature together with paintings, as well as works from Kenji Hoshi, whose brushwork appears to float above the canvas.
【Color : Blue】 centers on abstract works whose main theme is the color blue, such as Lucio Fontana's 《Concètto spàziale - Attése》 and Josaku Maeda's 《Blue series・Blue (№16)》.
At 【Landscape】, visitors can see works by Christo & Jeanne - Claude, as well as their signatures in the guestbook from when they visited the museum in 1985.
【Human,Human Figure】 will feature works such as Shinro Ohtake's three-dimensional paper piece, 《Man》, as well as a print piece of Francis Bacon's 《Triptych inspired by Orestia of Aeschylus》, which was seen in the film RoboCop.
At 【Splash】, visitors will be astonished by two monumental works: 《Carpe - volant》 by Toshimitsu Imai, which was painted live in 1991, and 《T1989-U12》 by Hans Hartung, which was painted during his later years.
Details
Period
February 20 [Sat.] - MAy 18 [Tue.], 2021
Opening Hours
9:30 AM-6:00 PM [Last admission is 5:30 PM]
Closed
Wednesdays [Except national holidays] and May 6 [Thu.], 2021
*Open from April 29 [Thu.] to May 5 [Wed.], 2021
Admission
Adults 300yen [*240yen]

For groups of 20 people or more, admission fees in [* ] are applied.
Free admission both to collection exhibitions and special exhibitions for the following visitors.
1. Children, students [elementary, junior high or high school students, etc.]
2. Persons escorting children/students for school activities or social activities. [Submission of admission free application is necessary.]
3. Disabled people with a physical disability certificate.
For seniors [70 and above] and university students or younger, admission to collection exhibitions is free.
Please note that the Museum may be closed for maintenance or an exhibition change out.
Opening hours and days of the Museum may be changed depending on seasons or events.

Venue
2F exhibition room 1
Organized by
Toyama Prefectural Museum of Art and Design