Exhibitions
Past Exhibitions
Higashiyama Kaii: The Mural Paintings in the Miei-Do at Toshodaiji
September 18 - November 7, 2021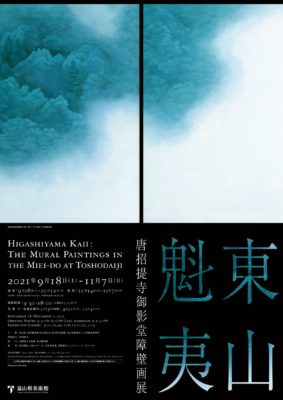 Kaii Higashiyama[1908-1999] is a Japanese painter known for landscape pieces which present tranquil and emotive scenes. He was praised in the Japanese painting world following WWII, and his works still boast steady popularity today.
Although Higashiyama left behind many famous works, his magnum opus is a collection of Mural Paintings which took 10 years to complete. They are found in the Miei-Do Hall of Toshodaiji, a Buddhist temple of the Risshu sect in the city of Nara. The Miei-Do Hall was constructed in 1964 as a place to enshrine a statue of Ganjin Wajo, the high-ranking monk who founded Toshodaiji.
Higashiyama accepted the task of working on accompanying Mural Paintings and the miniature shrine. He created Mural Paintings for five rooms, where a total of 68 murals depict natural Japanese landscapes and scenery from China, Ganjin Wajo's birthplace.

This exhibit will display these Mural Paintings, which are normally not open to the public, for the first time in the Hokuriku region. In addition to Mural Paintings displayed in partial recreations of Miei-Do Hall, visitors can also find an introduction to the world of beauty and prayer that Kaii Higashiyama dedicated to Ganjin Wajo, including sketches he made while walking around various parts of Japan and China.
Details
Period
September 18 [Sat.] - November 7 [Sun.], 2021
*Some works will be changed during exhibit period. All Mural Paintings on display will stay the same throughout exhibit.
Opening Hours
9:30 AM-6:00 PM [Last admission is 5:30 PM]
Closed
Wednesdays [Except national holidays], September 21 [Tue.] and November 4 [Thu.], 2021
*Open on November 3 [Wed.], 2021
Admission
Adults 1,500yen [*1,200yen], University students 1,000yen [*800yen], Advance ticket 1,200yen

If used on the same day of admission, visitors can also use their entry tickets for this exhibition to attend the Collection Exhibition.
For groups of 20 people or more, admission fees in [* ] are applied.
Free admission both to collection exhibitions and special exhibitions for the following visitors.
1. Children, students [elementary, junior high or high school students, etc.]
2. Persons escorting children/students for school activities or social activities. [Submission of admission free application is necessary.]
3. Disabled people with a physical disability certificate.
Advance tickets are available from July 17 [Sat.] to September 17 [Fri.], 2021

Venue
2F exhibition room 2、3、4
Organized by
Toyama Prefecture, "Higashiyama Kaii: The Mural Paintings in the Miei-Do at Toshodaiji" Exhibition Executive Committee [Toyama Prefectural Museum of Art and Design, THE KITANIPPON SHIMBUN], Nikkei Inc.

・Special Support: Toshodaiji
・Support: Nagano Prefectural Art Museum Higashiyama Kaii Gallery
・Corporate Sponsors: TOA Pharmaceuticals CO., LTD., Nitto Medic Co., Ltd., Nihonkai Dengyo Co. Ltd., THE HOKURIKU BANK, LTD., UNIZONE Co., Ltd., LEAD CHEMICAL Co., Ltd.