Exhibitions
Current Collection Exhibition
TAD Collection Ⅱ
August 5 - November 9, 2021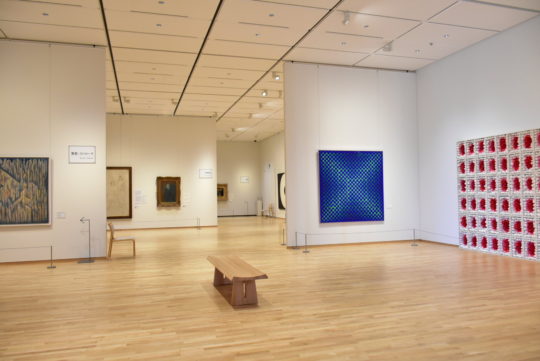 Introducing highlights from 20th-century artwork following five themes: 【Refrain】, 【In search of new expressions】, 【Scene】, 【Human Figure】 and 【Brush / Stroke】.

【Refrain】
Yayoi Kusama's 《Stamens in the Sun》, the largest piece at this exhibit. The work involves a recursive lineup of a total of 120 boxes, neatly arranged in six tiers and 20 rows. Please come enjoy this powerful piece that teems with life.

【In search of new expressions】
Beginning with Taro Okamoto's 《Red Rabbit》, here we introduce artists who pursued new modes of expression only they could have realized. Come see works by the "Kyu-shitsu Kai", a group of artists who released works in Japan before WWII, and were influenced by the surrealist and avant-garde movements.

【Scene】
Together with famous oil paintings by artist like Picasso, here visitors can enjoy seeing scenes that have been expressed in diverse styles, including Christo and Jeanne-Claude's project to connect with nature, the strange world unlike anything in reality found in the prints of Keisei Kobayashi, as well as scenes by Miran Fukuda that are compiled of her own memories.

【Human Figure】
In addition to displaying Léonard Foujita 《Two Nudes》 and sketch work, 《Sitting Nude》, this exhibit also gives visitors a chance to see the beautiful linework and elegant milky-white undercoats of Foujita's oil paintings.

【Brush / Stroke】
From the warmth achieved by careful strokes in Tatsuoki Nambata's 《Thinking from the Former Capital》, to the full-body energy and vigor of Kazuo Shiraga's 《Jyofu-suien》, each artist imbues their own thoughts and feelings into their brushwork to create a truly unique world of art. Please come see these abstract paintings, and pay attention to the differences in brushwork.
Details
Period
August 5 [Thu.] - November 9 [Tue.], 2021
Opening Hours
9:30 AM-6:00 PM [Last admission is 5:30 PM]
Closed
Wednesdays [Except national holidays], August 10 [Tue.], September 21 [Tue.] and November 4 [Thu.]
*Please note that the Museum may be closed for maintenance or an exhibition change out.
*Opening hours and days of the Museum may be changed depending on seasons or events.
Admission
Adults 300yen [*240yen]

For groups of 20 people or more, admission fees in [* ] are applied.
Free admission both to collection exhibitions and special exhibitions for the following visitors.
1. Children, students [elementary, junior high or high school students, etc.]
2. Persons escorting children/students for school activities or social activities. [Submission of admission free application is necessary.]
3. Disabled people with a physical disability certificate.
For seniors [70 and above] and university students or younger, admission to collection exhibitions is free.

Venue
2F exhibition room 1
Organized by
Toyama Prefectural Museum of Art and Design