Exhibitions
Current Collection Exhibition
Design Collection Ⅲ
IPT2021 selection: all award-winning pieces and selected international works from The 13th International Poster Triennial in Toyama 2021
October 14, 2021 - January 10, 2022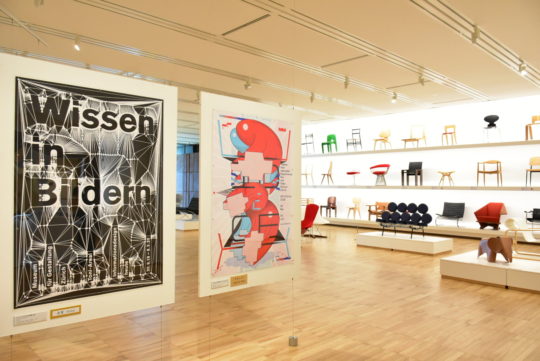 The 13th International Poster Triennial in Toyama 2021 [IPT2021] was hosted this summer at Toyama Prefectural Museum of Art and Design. IPT presents recent developments and accomplishments in poster design by accepting, screening, and exhibiting works from around the world. The exhibit opened on July 10th, but was unable to resume from the middle of August following a temporary museum closure due to the spread of COVID-19.
So, in this Design Collection, we offer a digest version of this summer's IPT2021 exhibit to showcase the accomplishments of IPT2021. The collection features around 40 works, including all 26 grand prix and other award-winning works, as well as a portion of the 400 selected works from abroad.

All categories together, 5,926 works from 64 countries and regions were submitted for screening at the IPT2021. Please come experience the current state and allure of poster design at IPT2021, and take advantage of an opportunity that comes once every three years to see a diverse array of posters from all over the world gathered in Toyama.
Audio guides are available with commentary on certain award winners, and a IPT2021 commemorative video will be shown at the third-floor library.
Although a digest version, please enjoy this summer's IPT2021 once more.
Details
Period
October 14 [Thu.],2021 - January 10 [Mon.], 2022
Opening Hours
9:30 AM-6:00 PM [Last admission is 5:30 PM]
Closed
Wednesdays [Except national holidays], November 4 [Thu.], 2021 and December 29 [Wed.], 2021 - January 3 [Mon.], 2022.
*Open on November 3 [Wed.], 2021
Admission
Adults 300yen [*240yen]

This ticket is for both the TAD Collection [Room 1] and the Design Collection [Room 5,6].
For groups of 20 people or more, admission fees in [* ] are applied.
Free admission both to collection exhibitions and special exhibitions for the following visitors.
1. Children, students [elementary, junior high or high school students, etc.]
2. Persons escorting children/students for school activities or social activities. [Submission of admission free application is necessary.]
3. Disabled people with a physical disability certificate.
For seniors [70 and above] and university students or younger, admission to collection exhibitions is free.

Venue
3F exhibition room 5
Organized by
Toyama Prefectural Museum of Art and Design