Exhibitions
Past Collection Exhibitions
TAD Collection Ⅲ
November 11, 2021 - January 18, 2022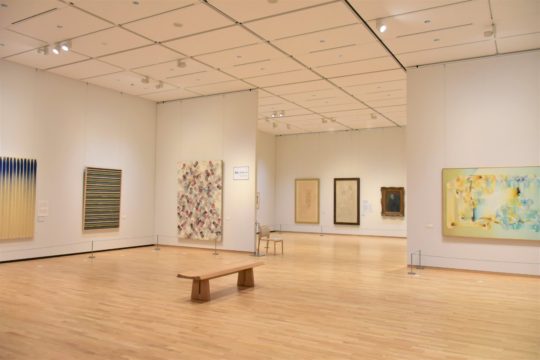 Introducing highlights from 20th-century artwork following five themes: 【Life in frame】, 【Relation-Overlap】, 【Scene】, 【Human Figure】 and 【Brush / Stroke】.

【Life in frame】
This display presents movements from the 20th century with regard to frames—which are a universally important aspect of art—and the portrayal of life as a motif within them.
【Relation-Overlap】
This display focuses on relations within works, such as the relationship between color and shape or figure and ground.
【Scene】
Translating the Japanese word "fukei" as "scene," here we present an array of scenes depicted within works, including scenes that were actually before the artist's own eyes, scenes that were recreated from past memories and records, and scenes from imaginary worlds and stories.
【Human Figure】
In addition to the many different methods of depicting the human figure innovated over time, please also take note of how figures' clothing and surroundings change throughout the ages.
【Brush / Stroke】
This display centers on brushwork. Visitors can see the power instilled in paintings when color is added, and feel the breathing of artists as they carried their brushes across the canvas.
Details
Period
November 11 [Thu.], 2021 - January 18 [Tue.], 2022
Opening Hours
9:30 AM-6:00 PM [Last admission is 5:30 PM]
Closed
Wednesdays [Except national holidays], December 29 [Wed.], 2021 - January 3 [Mon.] and 11 [Tue.], 2022.
Admission
Adults 300yen [*240yen]

For groups of 20 people or more, admission fees in [* ] are applied.
Free admission both to collection exhibitions and special exhibitions for the following visitors.
1. Children, students [elementary, junior high or high school students, etc.]
2. Persons escorting children/students for school activities or social activities. [Submission of admission free application is necessary.]
3. Disabled people with a physical disability certificate.
For seniors [70 and above] and university students or younger, admission to collection exhibitions is free.

Venue
2F exhibition room 1
Organized by
Toyama Prefectural Museum of Art and Design