Exhibitions
Past Exhibitions
Toyama Prefectural Museum of Art and Design 5th Anniversary
Mika Ninagawa Exhibition
March 19 - May 15, 2022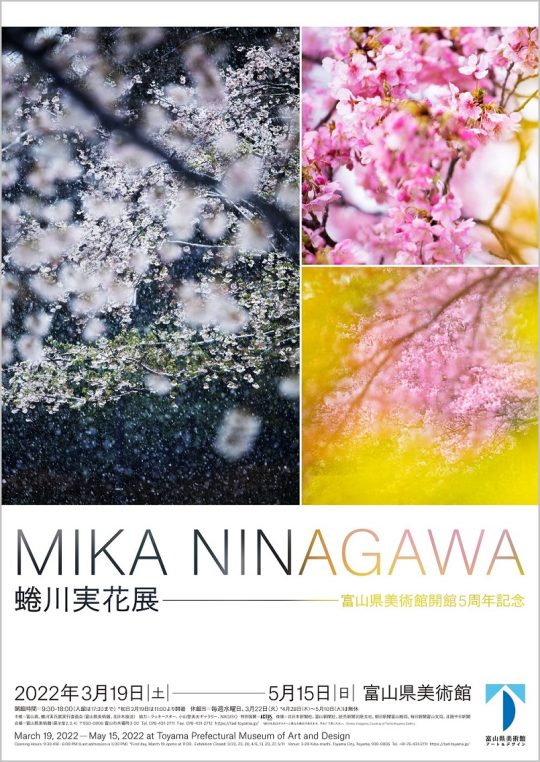 This exhibition is set to be Mika Ninagawa's largest display of works in the Hokuriku region.
As a quintessential modern Japanese photographer and film director, many people both in Japan and abroad have been captivated by her colorful and lively photographs of plants, her mesmerizing and intimate character portraits, and her dramatic film pieces. While photography remains one of her most important modes of expression, she has also expanded her creative efforts into an array of other fields, resulting in a diverse line-up of artistic endeavors.

In addition to introducing visitors to Mika Ninagawa's representative body of works—which realistically portray the life teeming within plants and people in breathtaking color and further depict the "now" of our modern world—this exhibition will also serve as a special opportunity to showcase a new video piece. Please come enjoy the world of Mika Ninagawa, which is at once as beautiful and fleeting as a dream, and also full of hope.

Exhibition highlights
● Works by photographer Mika Ninagawa will be displayed in large size, including her captivating "cherry blossom" pieces, as well as more recent works. Visitors will be able to fully appreciate Ms. Ninagawa's captivating portrayals of cherry blossom flowers, which bloom such that they appear to nestle right up to the viewer to convey the artist's emotions. Her series of tulip photographs. shot in Toyama, will also be on display.
● A new, much-anticipated video installation which is currently in production will be presented for the first time at this exhibition. The ambitious work aims to show how Ninagawa views nature, society, and life as she makes her way through the same "now" as the rest of us.
● The exhibition creates ways for visitors to share Mika Ninagawa's world view and messages with many others, including a room where visitors can take pictures surrounded by her works to post on social media.
Details
Period
March 19 [Sat.] - May 15 [Sun.], 2022
Opening Hours
9:30 AM-6:00 PM [Last admission is 5:30 PM]
Closed
Wednesdays [Except national holidays] and March 22 [Tue.], 2022.
*Open from April 28 [Thu.] to May 10 [Tue.], 2022.
Admission
Adults 1,400yen [*1,200yen], University students 1,000yen [*800yen], Advance ticket 1,200yen

If used on the same day of admission, visitors can also use their entry tickets for this exhibition to attend the Collection Exhibition.
For groups of 20 people or more, admission fees in [* ] are applied.
Free admission both to collection exhibitions and special exhibitions for the following visitors.
1. Children, students [elementary, junior high or high school students, etc.]
2. Persons escorting children/students for school activities or social activities. [Submission of admission free application is necessary.]
3. Disabled people with a physical disability certificate.
Advance tickets are available from January 20 [Thu.] to March 18 [Fri.], 2022.

Venue
2F exhibition room 2、3、4
Organized by
Toyama Prefecture|"Mika Ninagawa Exhibition" Exhibition Executive Committee [Toyama Prefectural Museum of Art and Design|Kitanihon Broadcasting Co., Ltd.]

Cooperation
LUCKY STAR Co., Ltd|TOMIO KOYAMA GALLERY|NAGISO
Special Sponsors
ACTUS TOYAMA
Auspices
THE KITANIPPON SHIMBUN|THE TOYAMA SHIMBUN|THE YOMIURI SHIMBUN HOKURIKU BUREAU|The Asahi Shimbun Toyama General Bureau|The Mainichi Newspaper Toyama Bureau|The Hokuriku Chunichi Shimbun