Exhibitions
Past Exhibitions
Toyama Prefectural Museum of Art and Design 5th Anniversary: DESIGN SCOPE
December 10, 2022 - March 5, 2023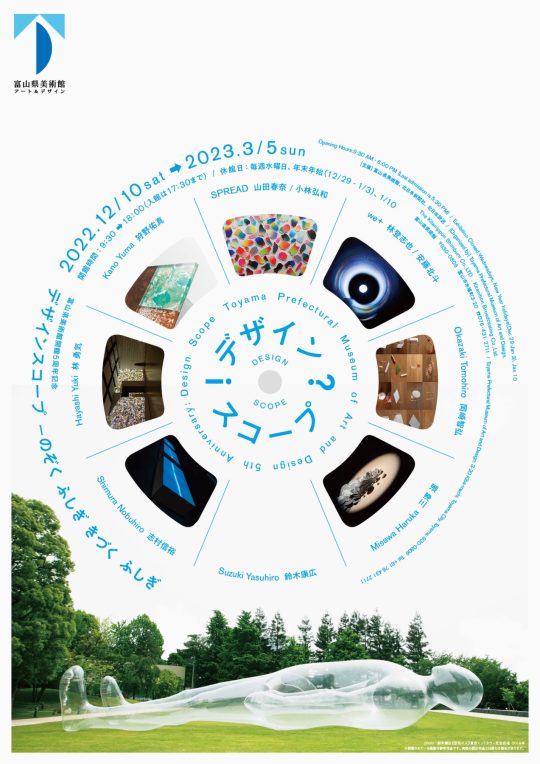 The telescope, used to observe faraway stars, and the microscope, used to study microorganisms and cellular material. Through the use of various instruments which utilize lenses, humanity has expanded the scope of their perceptible world, and given rise to new technologies and values.

In this exhibition, we have named this perspective, filtered through the lens of "design," to be "design-scope." It offers an overarching micro/macro perspective, built through an accumulation of conversations with prolific designers and artists who have achieved wide success on the front lines of their industries, and puts forth what possibilities future designs can propose, as well as how design and art exceedingly proximate current conditions. And through artworks newly created for this exhibition, as well as displays which utilize sound and visuals to offer entire environments to enjoy, this is an experience that encapsulates the creative energies within design and art, filled with joy and surprise, and the possibilities directed toward future generations, launched from this land here, in Toyama.
Details
Period
December 10, 2022 - March 5, 2023
Opening Hours
9:30 AM-6:00 PM [Last admission is 5:30 PM]
Closed
Wednesdays [Except national holidays], December 28, 2022 - January 4, 2023 and January 10
Admission
Adults 1,100yen [*850yen], University students 550yen [*420yen], Advance ticket 850yen

If used on the same day of admission, visitors can also use their entry tickets for this exhibition to attend the Collection Exhibition.
For groups of 20 people or more, admission fees in [* ] are applied.
Free admission both to collection exhibitions and special exhibitions for the following visitors.
1. Children, students [elementary, junior high or high school students, etc.]
2. Persons escorting children/students for school activities or social activities. [Submission of admission free application is necessary.]
3. Disabled people with a physical disability certificate.
Advance tickets are available from October 10 - December 9, 2022.

Venue
2F exhibition room 2、3、4
Organized by
Toyama Prefectural Museum of Art and Design|THE KITANIPPON SHIMBUN|KITANIHON BROADCASTING CO.,LTD.