Exhibitions
Current Exhibition
Toyama Prefectural Museum of Art and Design 5th Anniversary:
The Making of Munakata Shiko: Celebrating the 120th Anniversary of the Artist's Birth
March 18 - May 21, 2023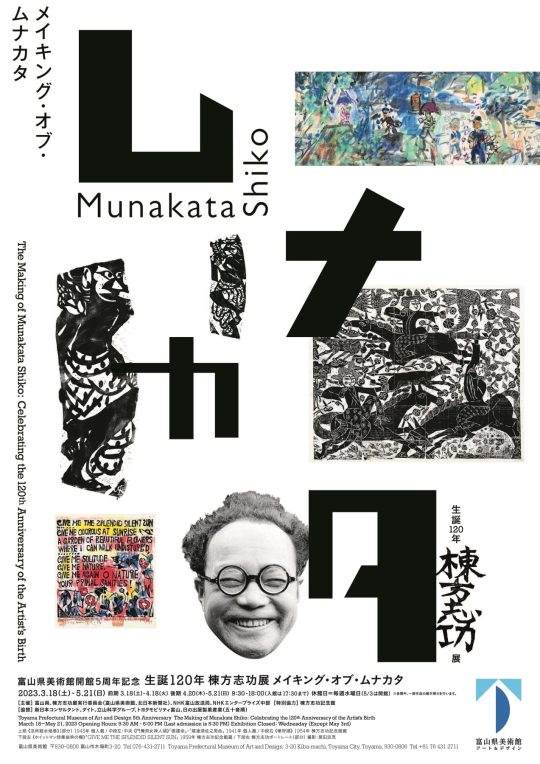 The works of the internationally acclaimed printmaker Shiko Munakata[1903-1975], known as 'Munakata of the World', remain very popular today. There are three regions where Munakata lived in, or created in, which each had a great influence shaping Munakata as an artist: Aomori, Tokyo, Toyama. In April 1945, he evacuated to the town of Fukumitsu [modern-day Nanto City, Toyama Prefecture], where he spent six years and eight months. During that time, he produced important works [prints, and Nikuhitsuga paintings] which were a turning point in his creative work.

In commemoration of the 120th anniversary of Munakata's birthday, various museums in the relevant regions [our museum, Aomori Museum of Art and The National Museum of Modern Art, Tokyo] will co-host this exhibition, in which we introduce a wide range of Munakata's works based on his relationship with the relevant regions, and we will rethink what kind of artist Shiko Munakata was.
Details
Period
March 18 - May 21, 2023
Opening Hours
9:30 AM-6:00 PM [Last admission is 5:30 PM]
Closed
Wednesdays [Except national holidays]
*Open on May 3, 2023
Admission
Adults 1,500yen [*1,200yen], University students 1,000yen [*800yen], Advance ticket 1,200yen

If used on the same day of admission, visitors can also use their entry tickets for this exhibition to attend the Collection Exhibition.
For groups of 20 people or more, admission fees in [* ] are applied.
Free admission both to collection exhibitions and special exhibitions for the following visitors.
1. Children, students [elementary, junior high or high school students, etc.]
2. Persons escorting children/students for school activities or social activities. [Submission of admission free application is necessary.]
3. Disabled people with a physical disability certificate.
Advance tickets are available from January 14 to March 17, 2023.

Venue
2F exhibition room 2、3、4
Organized by
Toyama Prefecture|"Munakata Shiko" Exhibition Executive Committee [Toyama Prefectural Museum of Art and Design|THE KITANIPPON SHIMBUN], Japan Broadcasting Corporation Toyama Station, NHK Enterprises

Special Support
Munakata Shiko Memorial Museum of Art

Sponsors
Nix CO.,LTD|Daito Pharmaceutical Co., Ltd.|TATEYAMA KAGAKU CO., LTD|toyota-mobility-toyama.|HINODEYA-SEIKASANGYO.