Exhibitions
Current Collection Exhibition
Design Collection Ⅳ
"Japanese Traditional Culture and Arts"
February 16 - April 18, 2023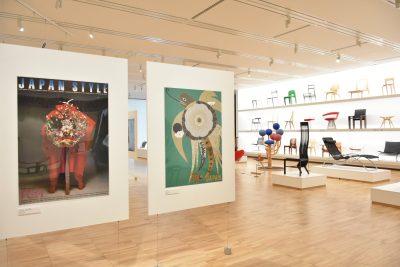 This quarter, in connection with the museum's special exhibition "The Making of Munakata Shiko: Celebrating the 120th Anniversary of the Artist's Birth" [March 18 - May 21, 2023], we will exhibit posters featuring traditional Japanese culture and art.

Motifs including moon and cherry blossoms, which have stimulated Japanese sensibilities since ancient times, and pouting lips against white skin, favored as an ideal of beauty, are dotted throughout the posters as symbols of Japanese culture and art. However, the way in which they are expressed varies by designer. We invite you to stop for a moment on a beautiful spring day and take in the various visual manifestations of traditional Japanese culture and art.
Details
Period
February 16 - April 18, 2023
Opening Hours
9:30 AM-6:00 PM [Last admission is 5:30 PM]
Closed
Wednesdays [Except national holidays]
Admission
Adults 300yen [*240yen]

This ticket is for both the TAD Collection [Room 1] and the Design Collection [Room 5,6].
For groups of 20 people or more, admission fees in [* ] are applied.
Free admission both to collection exhibitions and special exhibitions for the following visitors.
1. Children, students [elementary, junior high or high school students, etc.]
2. Persons escorting children/students for school activities or social activities. [Submission of admission free application is necessary.]
3. Disabled people with a physical disability certificate.
For seniors [70 and above] and university students or younger, admission to collection exhibitions is free.

Venue
3F exhibition room 5
Organized by
Toyama Prefectural Museum of Art and Design