Exhibitions
Current Collection Exhibition
The Collection of Shuzo TakiguchiⅢ
November 2, 2023 - February 6, 2024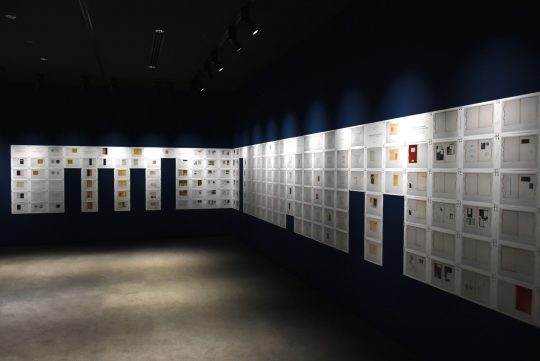 A Commemorative Exhibition for the 120th Birthday of Shuzo Takiguchi
A "book" as a Wilson-Lincoln System

Shuzo Takiguchi (1903-1979) unfolded diverse work as a poet, an exhibition organizer, an art critic, and a plastic artist. He produced mysterious books called by their nickname, "handmade brochures." They did not undergo a process at a publisher or a print shop. The books were made through the manual labor of Takiguchi himself and are composed of a so-called mishmash of scraps, such as magazine clippings, aluminum foil, labels, stickers, and handwritten memos. The books appear to be both complete and incomplete. For Takiguchi, who aimed for a "book that is not permanently bound and not paginated," it is conceivable that it was very important for him that a book exists in a hypothetical state.
The term "Wilson-Lincoln System" means an arrangement where President Wilson appears if you look at it from the left and President Lincoln appears if you look at it from the right. The arrangement resembles a double portrait, where a different face emerges if you look at it from the right or left. The term even appears as a word used by Duchamp in "Quotations from Marcel Duchamp" by Shuzo Takiguchi.
This exhibition assumes that typical books distributed mainly through bookstores and handmade brochures have antithetical existences. It places Takiguchi's "Quotations from Marcel Duchamp" (1968) such that it has an existence that wavers in that space. Through "Quotations from Marcel Duchamp," a book that has multiple images that appear between the two poles and make one remember the Wilson-Lincoln System, this exhibition considers how did Takiguchi perceive a "book" and productions and, moreover, what did he think a "book" was.
Details
Period
November 2, 2023 - February 6, 2024
Opening Hours
9:30 AM-6:00 PM [Last admission is 5:30 PM]
Closed
Wednesdays,(Open on January 3,2024),December 30,2023-January 2,2024
Admission
Adults 300yen [*240yen]

This ticket is for both the TAD Collection [Room 1] and the Design Collection [Room 5,6].
For groups of 20 people or more, admission fees in [* ] are applied.
Free admission both to collection exhibitions and special exhibitions for the following visitors.
1. Children, students [elementary, junior high or high school students, etc.]
2. Persons escorting children/students for school activities or social activities. [Submission of admission free application is necessary.]
3. Disabled people with a physical disability certificate.
▶Special exhibition [Friday Road Show and Ghibli] is by reservation only.Click here for details.
For seniors [70 and above] and university students or younger, admission to collection exhibitions is free.

Venue
3F exhibition room 6
Organized by
Toyama Prefectural Museum of Art and Design