Exhibitions
Current Collection Exhibition
Design Collection Ⅲ
November 2, 2023 - February 6, 2024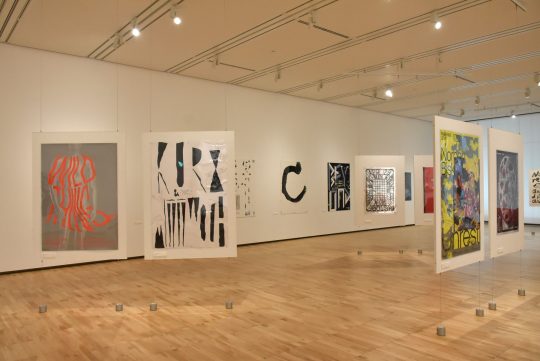 Currently, Toyama Prefectural Museum of Art and Design is now accepting submissions for The 14th International Poster Triennial in Toyama, 2024 (abbreviation = IPT2024), which will be held next fall. 
This poster exhibition, known around the world by the abbreviation「IPT」, has been held once every three years since 1985 when it was active as the Museum of Modern Art, Toyama and is the only poster exhibition in Japan that is open to the public. This is the 14th time that IPT2024 is recruiting works and holding an exhibition. 

Of the IPT application categories, the B category, which is the independent production category, and the U30+Student category, which is aimed at young people and students, have a theme for poster production each time.
IPT2024's theme 「Think( )」 is a theme that makes participants think about the message of the poster, that is, what they are thinking about and what they want to convey through this single poster, by inserting words chosen by each poster creator in ( ).

Based on this independent production category theme, we hope to raise expectations of International Poster Triennial in Toyama: IPT, which displays visual messages in the form of posters, through recent IPT award-winning works and jury works, along with the new posters created by the front-line designers who serve as the executive committee members and judges of IPT2024.
Details
Period
November 2, 2023 - February 6, 2024
Opening Hours
9:30 AM-6:00 PM [Last admission is 5:30 PM]
Closed
Wednesdays,(Open on January 3,2024),December 30,2023-January 2,2024
Admission
Adults 300yen [*240yen]

This ticket is for both the TAD Collection [Room 1] and the Design Collection [Room 5,6].
For groups of 20 people or more, admission fees in [* ] are applied.
Free admission both to collection exhibitions and special exhibitions for the following visitors.
1. Children, students [elementary, junior high or high school students, etc.]
2. Persons escorting children/students for school activities or social activities. [Submission of admission free application is necessary.]
3. Disabled people with a physical disability certificate.
▶Special exhibition [Friday Road Show and Ghibli] is by reservation only.Click here for details.
For seniors [70 and above] and university students or younger, admission to collection exhibitions is free.

Venue
3F exhibition room 6
Organized by
Toyama Prefectural Museum of Art and Design